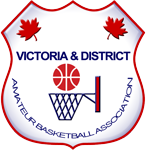 V&DABA is a nonprofit organization based in Victoria, British Columbia, Canada. Here we run a community basketball league for boys and girls aged 9 to 17. This season the V&DABA registered 123 teams with over 1200 players playing in 56 games per week. We register TEAMS, not individual players. To learn more, start surfing our site by using the links provided to the left.
The 2017-18 season begins on Tuesday, October 10, 2017 and ends in late February 2018.
Royal Oak Basketball is looking for coaches so if you are...
V&DABA is a League and Registers "Teams", NOT Individual Players. For more information, check under Registration -> Individual Players...